I found this ridiculous site www.nndb.com where you can find a who is who of the history of the world.
All authors are defined in terms like this:
Marcel Proust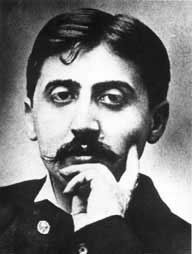 Born:
10-Jul
-
1871
Birthplace:
Auteuil, France
Died:
18-Nov
-
1922
Location of death:
Paris, France
Cause of death:
Pneumonia
Remains:
Buried, Cimetière du Père Lachaise, Paris, France
Gender:
Male
Religion:
Roman Catholic
Race or Ethnicity:
White
Sexual orientation:
Gay
Occupation:
Author
Nationality:
France
Executive summary:
In Search of Lost Time
So Proust was white and gay?
What kind of donkey conceived these biographies? You can verify the sexual orientation of Voltaire and Diderot and Jean-Paul Sartre (all described as white and straight). Aristotle was a white straight guy (you wish) and his student Alexander the great a white bisexual. There is no indication of a sexual orientation for the saints, I wonder why. I verified Augustine (you know, the saint who was such an inspiring sinner?) No mention of his sexual orientation. HA!
Alexandre Dumas was "multiracial" (indeed his grandmother was a slave) and his son was "white". On and On: it is the pattern.
The whole setting is offensive and profoundly disgusting to me.